Live-in part or full-time staff - Igloo Hostels & Hybrid, Nottingham, UK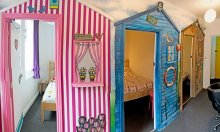 Hospitality Assistants Needed (Full & Part Time Position Available - Live-in staff very welcome).

Our fun and popular backpacker's hostel is looking for friendly and knowledgeable individuals to join our growing team!


POSITION DESCRIPTION


Purpose: To ensure the safety and comfort of our guests.

To represent Igloo in a manner that communicates and supports our organization's values and mission.

To assure our customer service and hostel facilities are maintained to the highest standards.


Essential Function: Hostel staff will make and receive reservations and payments, handle all customer inquiries promptly and enthusiastically, and maintain Housekeeping and grounds keeping. The goal of all functions of the hostel staff is to create quality customer experiences.


Primary Responsibilities:

1. Front Desk Operations • Secure reservations via telephone and email. • Provide guests with information about the hostel facilities, hostel programs, and the local area. • Actively promote the Igloo and Nottingham, and store inventory to generate hostel revenue. • Accountable for properly handling cash, credit cards, and guest information.


2. House and Grounds-Keeping • Ensure a consistently high level of cleanliness and Housekeeping. • Process linens in laundry operation as needed. • On busy days - and during the Summer, you may need to help Housekeepers empty bins, clean guest rooms and communal facilities as assigned. • Co-ordinate jobs and duties of General Assistants and Housekeepers • Inventory daily supplies.


3. Marketing and Community Relations • Promote the hostel in an effort to maximize occupancy. • Maintain relationships with key contacts such as vendors, partners, and service providers. • Assist the Hostel Manager in seeking out new customers and potential partnerships.


4. Facilities • Perform basic maintenance jobs such as changing light bulbs and smoke detector batteries. • Report any unsafe or inadequately maintained areas of the hostel to Manager.


5. Programs & Education • Assist Hostel Manager in development and promotion of hostel programs. • Participate, and encourage guests to participate in programs designed to promote community awareness, interaction between guests and/or intercultural understanding.


6. Other • Perform special projects and responsibilities upon request of the Hostel Manager. • Maintain flexibility in work schedule and responsibilities.


QUALIFICATIONS: Equivalent work Experience within the Hospitality trade is required. College coursework in Tourism, Business Management or Hospitality Management preferred. Candidate must be capable of working autonomously, flexible in meeting the demands of a "round the clock" operation, diplomatic, and be sensitive to the concerns of others.


Experience: • Hospitality, guest services and/or public relations experience. • Hostel, retail and/or front desk experience which required cash handling and processing of credit card transactions. • International and/or domestic travel experience. • Live-in work experience preferred.


Skills: • Ability to communicate effectively, both orally and in writing, with individuals of diverse social, economic and national backgrounds. • Ability to foster excellent visitor, employee, and public relations. • Problem resolution skills. • Ability to multitask, with strong attention to detail. • Knowledge of a second language. Spanish or French preferred. • Knowledge of Microsoft office applications , especially Outlook & Excel.


BENEFITS : • a unique and rotating work shift schedule • convenient work location • a fun, very social and different work environment • flexible rotas


Please note that the positions available are late afternoon - late evening roles. You may also be required to work nights occasionally.
Accommodation is provided in dorm style room sharing with other staff or volunteers.


If reading the information above makes you go "hey… that sounds like me!" then send us an email with you CV and cover letter with a spiel to convince us that you are indeed the person we are looking for.Backpackers Hostel in Nottingham looking for new Volunteers!


HOSTEL NAME
OPPORTUNITIES AVAILABLE
HOSTEL LOCATION
Job first posted: 20 April 2016