Live in Staff Req Edinburgh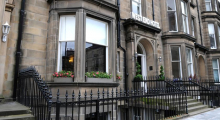 We are a busy Hostel/Hotel combo located in The West End of Edinburgh.
In July we have a number of volunteering jobs available here is a little more about the position :-
LIVE-IN STAFF REQUIRED
A position has become available for a new member of staff to join our team.
The position is live-in and you will be required to work 12-15 hours per week in exchange for your accommodation, inclusive of all bills.
Any hours worked over 12 will be paid at £9.50
The ideal candidate would have experience in the one of the following:-
Bar/Bistro
Waiter/Waitress
Reception
Housekeeping
Breakfast Service
The first 12 hours of your working week will be used to pay for your accommodation, sharing a dorm style room with one other person which includes: Digital T.V, Free Wifi, 30% discount off food & drinks, free laundry facilities
The position would ideally suit someone who is looking for another job alongside this one as the hours are part time but flexible.
Due to the nature of this position you must speak fluent English and be eligible to work in the UK without restrictions.
Please email your CV to
[email protected]
or leave a copy with a member of staff at the hotel if interested 
We are a Hostel/Hotel combo located in The West End of Edinburgh.
HOSTEL NAME
HOSTEL LOCATION
35 Palmerston Pl, Edinburgh EH12 5AU, UK
Job first posted: 30 April 2016