Live in Volunteers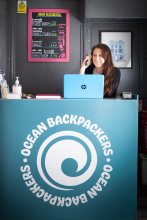 The Job advertisement

Live in Volunteers.

Duties include:
Helping with the successful day-to-day running of the hostel including cleaning, light maintenance, and check-in/reception duties.

Attending to the guests' needs and displaying a willingness to go above and beyond in order to ensure the best experience for guests. You will also need to deal sensibly with, and know how to de-escalate any customer complaints and refer to the assistant manager if unable to resolve issues


Must have some experience of travel and staying in hostels.

This is a physically demanding role and as such the ideal volunteers must be able to clean and change beds in multiple rooms daily, as well as being able to climb and descend stairs numerous times a day, often carrying heavy loads.

Would ideally suit an outdoor sports enthusiast looking for a lifestyle change near the sea. Ilfracombe is a picturesque Harbour town nestled in an area of outstanding natural beauty, with Exmoor and the two of the best surf beaches in the UK, Woolecombe & Croyde very close by.

Working Conditions:
Live-in job with a bunk bed in a shared/mixed dorm and use of communal kitchen and living space.
up to 18 hours a week usually in shifts of 3 to 5 hours.
All bedding provided and use of laundry but no food provided.




HOSTEL NAME
HOSTEL LOCATION
29 St James Pl, Ilfracombe EX34 9BJ, United Kingdom
Job first posted: 27 October 2022
Updated: 27 October 2022