LOOKING FOR ASSISTANT MANAGER TO START FALL 2021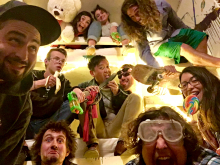 We are the one and only hostel in South Lake Tahoe, California, United States and we are looking for a truly outstanding assistant manager to join our team!! Ideally we're looking for someone with management and hostel experience. This Assistant Manager job has the potential to turn into the General Manager job in 6-12 months.
We're running a pretty large operation here with around a 60-bed capacity. Our guest service, high standards of cleanliness, and overall efficiency are what have earned us our consistent 4 and 5 star reviews over the past 7 years. We have a total of 8 volunteers and one manager who all put a huge amount of love into this place to keep it clean, cared for, and fun.
We are looking for an outgoing, hardworking, friendly, smiley, happy, funny, articulate, computer literate person to join us! We want someone who will ask a stranger how their day was, offer recommendations of fun things to do, see a need, and then fill that need with a hardworking attitude while simultaneously having a fantastic energy when checking people in and out. We want to maintain our reputation as the fun, friendly hostel we are and our team is what makes that happen!
The assistant manager role basically entails working four days per week: 2 to cover the managers days off and then 2 days at the weekend (most likely Friday and Saturday) to help the manager and team with preparing the hostel for the crowds. This will involve a few different things including: working the front desk, helping the reception volunteers if they have problems, organizing the cleaning volunteers with their daily duties, dealing with cancellations and refunds, counting money, performing basic bookkeeping, dealing with noise management/security, and basically ensuring the smooth running of daily operations. There will likely be some other work required of the assistant manager, you will be needed as an extra pair of hands and occasionally you may be called upon if the manager needs to leave for a short period. To thrive in this role you need to have a passion for hostels and for people, be well organized, have great problem solving skills, be efficient, hardworking, and have great initiative. Previous hostel experience is a must and some management experience would be preferred but not necessary for the right candidate.
In return for your work you will be given a private room in our hostel (1x queen bed, some dressers and drawers, a private bathroom), full use of all our amenities, plus financial compensation (a monthly salary) which we can discuss further!
We're proud of our relaxed and friendly vibes and unique community spirit. Joining our team will also give you endless opportunities to see the beautiful Lake Tahoe area: hiking, skiing, snowboarding, lake activities, camping- you name it; we've got it!! You'll meet some amazing people, experience living in the mountains, and be in a job that offers you the perfect level of both challenge and chill.
We are looking for someone to start in Fall when our current Assistant Manager leaves. So, if you are interested in taking on the experience of helping me (Andrew) run this place and could see yourself committing to at least a year, drop us an email (there's a link below)!! Please include a resume of your working experience and at least two (preferably hostel related) references that we could contact. Send all emails to
[email protected]
!! Thanks so much!
HOSTEL NAME
OPPORTUNITIES AVAILABLE
Paid Hostel Staff
Hostel Manager
HOSTEL LOCATION
4081 Cedar Ave, South Lake Tahoe, CA 96150, USA
Job first posted: 18 May 2021
Updated: 18 May 2021