LOOKING FOR A DYNAMIC, ENERGETIC AND DEDICATED RECEPTIONIST FOR THE #1 HOSTEL IN BAGAN, MYANMAR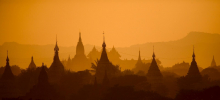 LOOKING FOR A DYNAMIC, ENERGETIC AND DEDICATED RECEPTIONIST FOR THE #1 HOSTEL IN BAGAN, MYANMAR
Join our growing RECEPTION TEAM in one of the last frontier countries in the world, Myanmar!
ABOUT OSTELLO BELLO BAGAN
Ostello Bello (www.ostellobello.com) is the brainchild of a group of real travelers from Italy who know what is needed by a guest staying at a hostel.
Ostello Bello Bagan is Ostello Bello's fist international location. Its staff comprises off local Burmese and fellow international travellers. They speak English, French, Italian, Spanish, Portoguese, and Czech.
The team's goal is to provide a high quality service for any traveller on any type of budget. With this in mind, best in class facilities are included in the price to provide traveller's with a great experience.
The team is very grateful to all guests' who recognised their efforts consistently ranking Ostello Bello Bagan Top 3 on Hostelworld, TripAdvisor, Agoda and Booking.com.
RESPONSIBILITIES
• Checking guests in and out using Backpack Online (the team will provide you with any initial training you need)
• Giving friendly directions and information about things to do and explore in Bagan and Myanmar in general
• Responding to email and guests' requests
• Ensuring the security of our guests by screening visitors and maintaining a constant awareness of the property
• Answering phones with attention to detail (and a smile)
• Accurately recording cash and credit card transactions.
• Keeping the front desk area tidy and well stocked.
• Checking reservations for discrepancies
• Checking for maintenance issues in guest rooms, bathrooms and common areas
• Some light housekeeping if necessary
PREFERRED EXPERIENCE AND SKILLS
• Undergraduate / college degree preferred but not essential
• Excellent oral and written skills in English
• Computer literacy (incl. MS Excel, Word and PowerPoint)
• Fluency in Burmese or another Asian language is a plus
• Previous hostel / hotel hospitality experience is a plus
WORKING HOURS
A typical day is 8-hour long though flexibility is highly appreciated. We will of course make sure you have enough time to wander through the magic temples of Bagan and see a few sunsets and sunrises.
TO APPLY
Please EMAIL a one-page resume to
[email protected]
and a short answer to the following questions:
• Which countries have you traveled to?
• What are the key traits of a hostel in your opinion?
• Why would you be a good fit to Ostello Bello?
• What attracts you to Myanmar?
• When can you start working and for which period?
Only Serious Applicants Apply.
Ostello Bello BaganHello, I have been working at Ostello Bello Milano 3 years.
I am currently managing Ostello Bello Bagan
HOSTEL NAME
OPPORTUNITIES AVAILABLE
Job first posted: 14 June 2015