Looking for fun, friendly team members!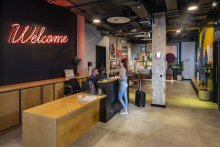 Job Title: All areas available as of August 2021!

Status: Full-time, permanent.

Job Description:

Large, centrally located hostel in Dublin 1 seeks several candidates to fill full time and permanent roles in the reception and bar. The successful candidates should be outgoing, patient, and have a natural talent for customer service.

The successful candidates would have the following skills and qualifications:

• Strong English skills, a secondary language is a plus.
• Experience in customer service.
• A permit to work in Ireland.
• References.
• Excellent written and verbal communication skills.
• Familiarity with Mews and OTAs is a plus.
• Any barista or bar work experience would be a plus .
HOSTEL NAME
HOSTEL LOCATION
D1, 21 Talbot Pl, Mountjoy, Dublin 1, D01 W5P8, Ireland
Job first posted: 29 January 2020
Updated: 29 January 2020