LOOKING FOR PARTY PEOPLE TO VOLUNTEER AT SOUTH EAST ASIA'S NO 1 PARTY HOSTEL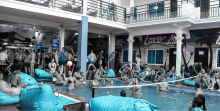 As Siem Reap's only 24 hour Party Hostel
We are looking for FUN and ENERGETIC people to come help us at our BAR & RECEPTION. The ideal personality for a party backpackers hostel would include someone that is animated, talkative, has high social skills and is self motivated.

We are the biggest hostel in Siem Reap and only 5 minutes walk from the famous "Pub Street". After spending the day partying by the pool, our staff and the guests gather on the rooftop bar for drinks, drinking games, socializing, etc. Our city has an amazing nightlife so our rooftop bar is a great start for an unforgettable night.

So if you are in South East Asia or are planning to, send us an email or just simply walk in for an interview.

HOSTEL NAME
Funky Flashpacker Asia
OPPORTUNITY TYPE
Volunteering

WHERE WE ARE LOCATED
319 Funky Lane, Steung Thmey Village, Svay Dangkum Commune, Siem Reap City 17252, Cambodia.



HOSTEL NAME
HOSTEL LOCATION
319 Funky Lane, Steung Thmey Village, Svay Dangkum Commune, Siem Reap City 17252, Cambodia
Job first posted: 25 June 2018
Updated: 25 June 2018