looking for RECEPTIONIST WITH Experience in MEXICO, TRIBU HOSTEL (HOLBOX ISLAND)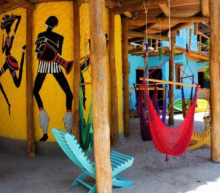 HELLO!!
We are looking for a RECEPTIONIST with Experience...
Searching for a comunicative, dynamic, with excellent skills in public relation.
English and spanish language are really really helpful.
There are no night shifts, the reception is open from 8.30 am till 8 pm, schedule flexible.
Tribu hostel is a different hostel where we try to make everyone feel at home.
There is a fix salary + commissions
The apartment can be included in case if you want to share with other members of the staff
for any informations please write us:
[email protected]
we will be happy to respond any question or doubt you could have. :)
www.tribuhostel.com
facebook : Hostel Tribu Holboxhello!
We run a hostel and we are curious!
HOSTEL NAME
OPPORTUNITIES AVAILABLE
Job first posted: 22 January 2015