LOOKING FOR RECEPTIONIST @ HOSTEL & CABANAS IDA Y VUELTA IN ISLA HOLBOX, Q.ROO, MEXICO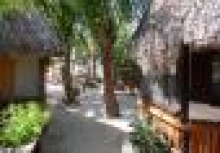 WE ARE LOOKING FOR A MALE OR FEMALE RECEPTIONIST FOR OUR HOSTEL.
ENGLISH AND SPANISH SPOKEN FLUENTLY
MEXICAN CITIZENSHIP
COMUNICATIVE AND PUBLIC RELATION ORIENTED,
POSITIVE AND HARD WORKER
PREVIOUS EXPERIENCES IN SIMILAR JOBS
25-35 YEARS OLD
TIME: 8 HOURS PER DAY, SIX DAYS PER WEEK.
WE ARE LOOKING FOR A LONG TERM RELATIONSHIP.
WE OFFER BASIC SALARY + COMMISSIONS.
AVAILABLE A FLAT FOR 2500 PESOS PER MONTH
CONTACT
[email protected]
OR CALL US +52 984 875 23 58
TALK TO YOU SOON.
HOSTEL NAME
HOSTEL LOCATION
HOLBOX HOSTEL IDA Y VUELTA, Calle Plutarco Elias Calles s/n, Entre Robalo y Chacchi, 77310 Isla Holbox, Q.R., Mexico
Job first posted: 07 September 2015
Updated: 14 August 2017