LOOKING FOR SUMMER Part-time staff, Canada, British Columbia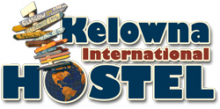 We are currently looking for summer part-time staff. If you love meeting people from around the world, if you are positive, friendly, well-spoken (extra language is an advantage) and organized feel free to contact us. This can be a great work experience for the future.
The different responsibilities are:
-Reception (check-in, check-out, phone bookings, making guests feel at home)
-Participating in hostel daily and night activities
-Basic cleaning
We offer:
-Free accommodation
-An awesome team, sun, happiness and extremely good weather
Workload is 20 hours a week.
The minimum duration of stay – Summer 2015
Passport required.
It's a wonderful way to make the most of some beautiful parts of Canada, enjoy outdoor activities, nightlife, meeting people and getting good hospitality and tourism experience. We are located a 5 minute walk from the beach and 10 minute walk from the center of downtown.
To apply for the job, please send your CV to
[email protected]
Kelowna International Hostel
website: http://www.kelowna-hostel.bc.ca/
250 763 6024Our mission is to be the cleanest hostel on the planet, in the safest environment possible, with the friendliest staff in the world!
HOSTEL NAME
OPPORTUNITIES AVAILABLE
Job first posted: 24 May 2015