Manager: Cozy Lodge in the Maine Mountains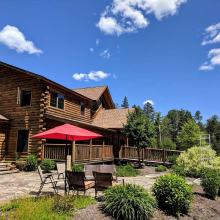 We're searching for an enthusiastic manager to help run all day to day aspects of Hostel of Maine. Our successful manager will be comfortable wearing many hats and adapting to situations quickly; sometimes we know when we're going to have a busy day and other times it's quite unexpected. This is our 7th month in business so it's important for a new team member to understand that we are still growing, learning, and making changes for the better every day. This would be an ideal fit for someone interested in small business and/or opening their own hostel or bed & breakfast someday.

We call ourselves an "adventure hostel" because our guests are staying with us before, during, or after enjoying the great outdoors of Maine. In the summer many of our guests are Appalachian Trail thru hikers and day hikers, and winter is busy with those visiting for the ski resort we sit at the base of. We offer guests both private and bunk rooms to accomodate guests of all ages and comfort levels, and many have commented that it's the cleanest most welcoming hostel they've ever stayed at; it's important to us that this reputation be maintained! Truly we're a bit more of a hostel/bed & breakfast hybrid than just one or the other.

Hospitality or restaurant experience is helpful but not required; we are happy to train the right individual for this position; just be dedicated, committed to providing a high quality environment for our guests, and interested in being part of a small (you'd be our first full-time, long-term hire) and hard working team.

We have an on-site liquor license, so while we don't offer a full bar we do provide can service to our guests and to the public on our patio during warm months.

Position could be filled by one person or split between two individuals, presumably a couple as only one large bedroom/private living space is provided. Dogs considered.

JOB DUTIES ENTAIL (but not limited to)
Daily housekeeping: HoME is 7,300 sq feet and has 7 guest rooms. There is always something to be cleaned or prepared.
Breakfast service 4-5 days a week: You do not need to be a chef, but comfort around a kitchen is necessary.
Reception & Check-In: As needed.
Communication: We're all about it. Ask questions, make suggestions, let us know if something isn't working.
Inventory management: We really don't like finding out we need something after we're out of it and are not in a location where you can just 'go grab that real quick.'
Maintenance of outdoor spaces: HoME is situated on 5 acres of wooded land with flower & vegetable gardens, a short private trail, and patio & deck spaces. We like to keep 'em tidy.
HoME happiness & wellbeing: it is the responsibility of everyone working here to keep HoME a safe and enjoyable space; this means following & enforcing established rules & policies regarding liquor consumption, guest expectations & requests.
Special projects: we're a new business; we're always working on something! If you have a particular interest or skill set, we want to know about it.


ABOUT US
Hostel of Maine is a cozy lodge in Carrabassett Valley owned & operated by Justin & Melanie and their exuberant dog Zoe. We're dedicated to providing a comfortable and welcoming environment to guests of all ages interested in the great outdoors. Located ½ mile from the base of Sugarloaf Ski resort & miles of ski & mountain bike trails, 3 miles from the 2000 mile marker of the Appalachian Trail, and amongst some of the most breathtaking peaks and day trips of Maine our backyard is full of endless outdoor adventures. We're not the party hostel you stayed at in Amsterdam when you were 21, but we're the hostel you want to stay at if you're into good people, great beer, and an organized yet unpretentious atmosphere. The Carrabassett Valley motto is "from here on your life will never be the same." We couldn't agree more.

HOSTEL NAME
OPPORTUNITIES AVAILABLE
Paid Hostel Staff
Hostel Manager
HOSTEL LOCATION
3004 Town Line Rd, Carrabassett Valley, ME 04947, USA
Job first posted: 07 August 2018
Updated: 07 August 2018
THIS HOSTEL IS LOOKING FOR TRAVELLERS WITH THE FOLLOWING SKILLS
Administrative Assistance
Bartending
Cooking
Greeting / Helping Travelers (Concierge)
Hostel Cleaning / Housekeeping
Hostel Management
Hostel Reception / Front Desk
*This Hostel is willing to provide training