Morning Chores in Exchange for Sweet Digs in a Cool City!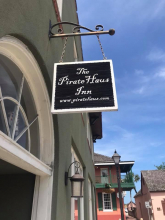 We will need a couple super hostelers starting in February 2020!

We are located in the heart of charming, downtown St. Augustine Florida. It's the nation's oldest city! There is tons to do in town: tours, museums, scenic cruises and live music. And we have free passes to almost everything for our work traders! There are lots of local businesses hiring if you want to earn some money while volunteering!

We expect our volunteers to be available in the morning to help with changing beds, cleaning rooms and bathrooms, helping with pancakes (which are yours to eat, too!) and other little Haus projects. After noon your day is free to explore and get educated! Or work. Or nap.

Accommodations for our worker bees are: a shared, four bed staff room, a bathroom with shower, full kitchen, patio, common area with TV including Netflix, some other networks and computer. Wifi, linens, pancakes, spaghetti, and attraction access is all included in your exchange.

Our perfect candidate is polite, considerate, responsible, inspired, doesn't snore, cleans up after oneself, likes living communally, has a positive attitude and can be available from 9-12 (although we generally only work 2 hours.) We are a hostel and a small B&B, so guest interaction happens often, customer service skills are a must!

We offer a stay of 1-3 months after completing a one-week trial. We care about the happiness of our staff and we always make sure dynamics are smooth in our little Haus!
HOSTEL NAME
OPPORTUNITIES AVAILABLE
Work Trade/Exchange
Volunteering
HOSTEL LOCATION
32 Treasury St, St Augustine, FL 32084, USA
Job first posted: 24 September 2018
Updated: 24 September 2018