NEED VOLUNTEERS FOR PAID POSITIONS IN HUARMEY PERU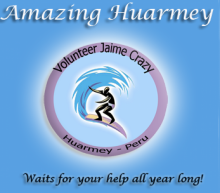 I need responsible volunteers who are interested in the decoration and overall setup/development of a new bar in Huarmey Peru. Huarmey is 4 hours north of Lima. Volunteers will have free accommodation in the hostel "Jaime Crazy Peru" and will receive 3 free meals per day. Volunteer positions will be for a minimum of one week. Volunteers will work for 12 hours a day and will be paid $20USD per day. The work is not hard, for instance buying lights, sound equipment, paint, and other necessary items and also monitoring the progess of the project. Volunteers should be responsible and should have at least intermediate level spanish and english. If you or a friend of yours is interested, please contact me immediately.
POSITION EXPECTATIONS AND RULES
1. The volunteer will not use or be under the influence of any drugs or alcohol while working.
2. If the volunteer breaks any items (for example: lights, decorations, etc) these items will be deducted from the volunteer's pay.
3. Volunteer will work 12 hours per day in exchange for 3 free meals per day, free accommodation in Jaime Crazy Peru Hostel, and $20USD pay per day.
4. Volunteer will work for a minimum 7 days, if the volunteer does not complete this then the volunteer forfeits their pay.
5. Stealing or any other violation of this contract or the local law will be grounds for immediate termination from the project and termination of all benefits.
6. Volunteer will immediately notify Owner of any other volunteers or other workers who break these rules.
7. If Volunteer has any issues/concerns with the work, volunteer must discuss this with Owner when the work is first assigned.
8. This project does not provide insurance to volunteers.
email:
[email protected]
HOSTEL NAME
OPPORTUNITIES AVAILABLE
Job first posted: 07 May 2014