New hostel in the Golan Heights - Israel. Volunteers needed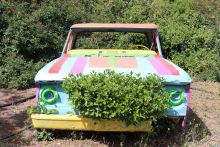 We are opening a new hostel in Odem!!
Odem is a small community located in the very north part of Israel, on the golan mountains.

We are looking for people to come and stay with us for at least 6 weeks, Work with guests from all around the world and enjoy the nature that surround this beautiful area.

The area is exceptionally beautiful, and loaded with anything nature can offer - enchanted forest, springs and streams, waterfalls, hiking trails, wild life and more... We are truly "a bed between adventures".

The area has a lot of historical and archaeological sites from different eras in history.

The hostel includes a large communal kitchen, living space, private and shared rooms, and a small grocery store. Outside we have basketball court, BBQ, fire pit, hammocks and gardens.

Volunteers will work in shifts of 6 hours, 5 days a week (which leaves you plenty of free time to travel around and get to know the area).
Work includes cleaning the rooms, common areas and bathrooms, breakfast set up, Checking in , Checking out, laundry, running the store and guiding the guests around. Most important is making the hostel atmosphere.

In return you will get accommodation in a 4 persons dorm (private room for volunteers only), food, laundry, internet and a lot of free time to enjoy the area. You will also get time off when you want it and we can help with free staying in other hostels in Israel.
special rewards will be given to the volunteers to share upon excellence.

We are looking forward to have a responsible, helpful, hard worker, respectful, patient with good communication, good English, easy going and social person to work/live with.

Hope to see you soon :-)

Liad and YaronMy name is Liad and here is my hostel story :-)

About a year ago, two friends started dreaming together. We have known each other from childhood, growing up together in the wild Golan Heights, sharing adventures, and exploring the world – some parts together and some parts alone. We both travelled the world for many years, more than six years each, so we never run out of things to talk about! And now we are here, back at home in the place we grew up, sharing the same dream. Like any good story, it started as another visit to our regular place for humus in Masa'de, a lovely Druze village not far from where we both live....

Imagine a simple house with a front yard full of green grass and a back yard with trees for shade. Some white houses with red roofs around, surrounded by trees, gardens, and nature of all kind. Many kinds of fruit trees grow freely. After a short walk down the quiet road, there sits a small and special winery.

Imagine everywhere you look, green-topped trees stand tall above a carpet of red anemones in summer and a blanket of white snow in winter. All kinds of wildlife wander below the magical branches. Imagine cows grazing in a meadow, with a flock of goats near by. Deer bounce around, wild boars search for tubers, and foxes run through the forest. Now imagine looking up, you see a ruby colored mountain rise above the trees. A dormant volcano sits above the community, promising infinite views from the very top of Israel.

Now imagine this simple house to be yours. Inside, you have a comfortable bed, hot shower, well-equipped kitchen and dining room, and many friends to help pass the time. In the winter, a fire crackles in the fireplace to keep you warm. In the summer, a breeze rustles through the fruit trees as you sit in the cool shade out back. Coffee, tea, fresh herbs are always on hand. And during the season, cherries are on the menu!!

Now you can keep imagining, or even better – come experience the magic for yourself! We will be in this house, waiting for you to come and share our dream. We are waiting to hear your stories and to show you the magic that surrounds this special place.

Our dream – The Golan Heights Hostel – will open in August 2014. There is still work to be done before our dream becomes a reality, but nothing that dreamers cannot finish with a little hard work and good friends.


HOSTEL NAME
OPPORTUNITIES AVAILABLE
Job first posted: 18 July 2014