New Orleans French Quarter Needs YOU :)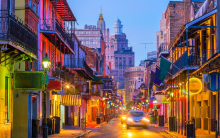 We are ramping up for our upcoming season -- so come join us now while there is still positions available :)
We are a growing travelers hostel / hotel hybrid located *in* the French Quarter, just two blocks from Bourbon Street - and we need a awesome staff members to grow with us!
Our team is from Brazil to Pakistan to Utah -- so some on and experience the Big Easy with our guests and fellow staff!
This is a part time position for work trade / exchange. You get accommodations with your fellow staff members in exchange for some help around the hostel.
ABOUT US:
We are a family-like group who have spent almost a decade creating interesting and accessible spaces for guests and our staff.
City House New Orleans believes in bringing people together through travel and shared experiences. We offer private rooms and shared dormitory style accommodations to those looking to visit New Orleans without breaking the bank.
ABOUT YOU:
- You are passionate about the guest experience and making a difference
- Understand that punctuality and promptness are highly valued
- Have a pleasant but firm personality
- Experience working swing or varied shifts depending on the needs of the business
ABOUT THE ROLE:
Our in house staff help with a variety of operations in the hostel including:
- leading free nightly events for guests
- laundry
- over night house safety and wellness checks
- occasional check-in support
- supporting the General Manager
- small odds and ends around the hostel
Approximately 18 - 20 hours per week required
Plus 1 hour weekly staff meeting
No more than 21.5 hours per week :)
ABOUT APPLYING:
Please email us at:
[email protected]
Send us your available starting date, your history and experience, and resume if you have one.
HOSTEL NAME
OPPORTUNITIES AVAILABLE
Work Trade/Exchange
Volunteering
HOSTEL LOCATION
129 Burgundy St, New Orleans, LA 70112, USA
Job first posted: 20 July 2021
Updated: 20 July 2021
THIS HOSTEL IS LOOKING FOR TRAVELLERS WITH THE FOLLOWING SKILLS
Building Maintenance & Repairs
Event Planning / Hosting
Greeting / Helping Travelers (Concierge)
Hostel Cleaning / Housekeeping
*This Hostel is willing to provide training