Not Available... position filled.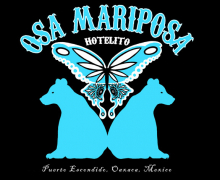 Interested in some work for trade? We need a hand in MARCH and APRIL at the Osa Mariposa hostel in Puerto Escondido, Oaxaca, Mexico.
The hostel is located 100 meters from Zicatela Beach, in a quiet neighborhood between the town's two best surf breaks.
JOB INCLUDES: Cleaning (Bathrooms, showers, cabins, patio, bar, etc), some gardening, and possible bar-tending depending on language and experience.
TRADE-OFF: A bunk bed and food.
The cleaning and gardening take about 2-3 hours a day. The bunk bed is in a dormitory cabin. There are 4 beds, total and we use the other 3 only when EVERYTHING else sells out (we have 3 other dorms). Most likely you would have the cabin to yourself except for the last week of March (Semana Santa).
FYI: This is a vegetarian establishment. All food cooked or brought into the kitchen must be meat-free. This includes seafood. We have a restaurant and prepare delicious food which you would be entitled to (within reason, when available). Beer and alcohol can be bought by volunteers at half-price.
Please visit us at www.osamariposa.com or www.facebook.com/osamariposa
INTERESTED? Contact David at:
[email protected]
HOSTEL NAME
OPPORTUNITIES AVAILABLE
Job first posted: 18 February 2013