Oasis Backpackers Seville and Thirsty Sailor Backpackers Bar are looking for sexy staff ASAP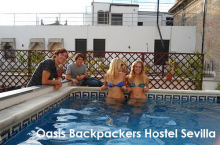 Ahoi,
we are looking for some new volunteers for our hostel and backpackers bar which will open upcoming Saturday. As a volunteer here in the hostel youll be working approx 4 hours a day, meaning that you help out out with cleaning one day starting from 11am, have the rest of the day off, and do the night shift the next day from midnight till 8 and then be off for one day to either help behind the bar if youd like to make some extra cash or just enjoy Seville and its beautiful surroundings. Work here is pretty chilled out and straight forward, its no rocket science. We also will have dinner duties, as in going shopping and preparing food for our daily home cooked dinners which youll get for free and might even make some money off if youre keen to do some extra work.
We are looking for good English speakers to start ASAP to get the bar ready for its opening party next weekend. Spanish is a plus. No hostel or bar experience required. Min stay is 2 weeks. VOLUNTEER SPOTS FILLED FROM MID JUNE, so please dont contact us if you can only come in June.
In exchange, you can earn 50% profits of the bar if on shift, free accomm., free breaky, free dinners if you help out with our daily cooking for guests and staff, free WIFI, tours, swimming pool, staff prices at the bar and at our sister hostel in town.
If you do a good job, we might keep you on for longer, recommend you to our partnering hostels and can arrange you some free stays for your future travels.
We are also looking for bloggers, social media rockstars and artists to do some work for us and the other Oasis in exchange for a free bed, breaky etc.
Check us out on HW: http://www.hostelworld.com/hosteldetails.php/Oasis-Backpackers-Hostel-Sevilla/Seville/43651?propNum=43651&dateFrom=2014-04-20&dateTo=2014-04-23
FB hostel Oh! Seville
FB bar Thirsty Sailor
Please mail me at
[email protected]
with a short CV that points out your interests and skills. Please keep it fairly informal as its a hosteljob. Please attach a couple of fotos of yourself also.
Cheers,
KTManager of Oasis Seville Backpackers and owner of backpackers bar Thirsty sailor. In charge of promoting Oasis Hostels and networking in the backpacker industry. Soon to be organising Backpacker events in Seville and hopefully whole of Spain.
HOSTEL NAME
OPPORTUNITIES AVAILABLE
Job first posted: 19 April 2014