Ostello Bello wants you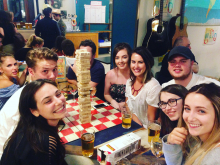 Ostello Bello is back and it's bigger than before. Awarded in 2019 as Best Hostel Chain in the World, we are looking for receptionist, reception manager, bartender and bar manager in our new hostels in Florence, Genova and Rome. We need enthusiastic and hard working people, ready to create the best travel experience ever to our guest.
Full time (40 hours a week)
Fluent English + Italian(intermediate level).
Experience in hostels as staff is required.
Please fill the form at jbttr.com/3X4 for the reception or at jbttr.com/OBbarista for the bar. Or send us an email at
[email protected]
with your CV and specify the name of the city you prefer in the subject.
HOSTEL NAME
OPPORTUNITIES AVAILABLE
Paid Hostel Staff
Hostel Manager
HOSTEL LOCATION
Via Medici, 4, 20123 Milano, Italy
Job first posted: 21 April 2021
Updated: 21 April 2021
THIS HOSTEL IS LOOKING FOR TRAVELLERS WITH THE FOLLOWING SKILLS
Bartending
Email Communications
Hostel Management
Hostel Reception / Front Desk