Outdoor Adventure, Beer, & Community -- Seeking Bunk+Brew Assistant Manager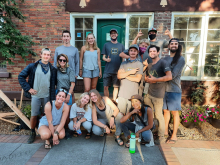 Do you like outdoor adventure, beer, and community!?
Bunk+Brew is looking for an ASSISTANT MANAGER (age 21+) to start ASAP!!
$15 per hour
30-40 hours per week
On-site lodging preferred (and discounted!). Plus, discounted food and beer.
Contact us with questions or to schedule an interview.
Thanks!
Colette Beckmann
General Manager
+1 425.591.3032
[email protected]
WHO WE ARE
The Bunk+Brew Historic Lucas House is Central Oregon's Community Basecamp -- connecting outdoor adventure-seekers over food, beer, and events. 2.5 blocks from downtown Bend, the Lucas House (1910) is also Bend's first and oldest brick building. The Bunk+Brew Crew includes a general manager, bar manager, maintenance supervisor, 8 volunteers, and 2-3 bartenders. Join us for food carts, craft beer, and live music. Or relax in our new Finnish sauna!
WHAT WE NEED
Your primary responsibility will be supporting the General Manager. You will interview, hire, onboard, schedule, train, monitor, pay, and release all staff. You will attend management meetings and lead staff meetings. You will lead staff outings. You will help oversee The Yard including all events, the beer truck, and the food carts. You will help staff create and cancel reservations, process payments and refunds, check guests in and out, respond to emails and reviews, take phone calls, answer guest questions, and resolve guest concerns. You will help staff clean and prepare bedrooms, bathrooms, and common areas, strip and make beds, and clean and store linens and towels. You will maintain company and property standards, monitor and enforce property rules, and ensure the safety and security of guests and customers. You will also learn about Bend and the surrounding area and be prepared to inform guests and customers on the top attractions, events, and activities. You will be expected to be professional, respectful, responsible, honest, and organized. You will report directly to the General Manager.
HOSTEL NAME
OPPORTUNITIES AVAILABLE
Work Trade/Exchange
Volunteering
Paid Hostel Staff
Hostel Manager
HOSTEL LOCATION
42 NW Hawthorne Ave, Bend, OR 97701, USA
Job first posted: 20 August 2020
Updated: 20 August 2020
THIS HOSTEL IS LOOKING FOR TRAVELLERS WITH THE FOLLOWING SKILLS
Email Communications
Event Planning / Hosting
Greeting / Helping Travelers (Concierge)
Hostel Cleaning / Housekeeping
Hostel Management
Hostel Marketing
Hostel Reception / Front Desk
Social Media Marketing
*This Hostel is willing to provide training