The Pack & Carriage in London is hiring!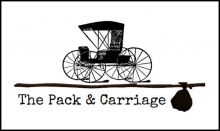 The Pack & Carriage is a cozy craft beer pub, live music venue, burger joint and (very shortly) backpackers hostel. We're located in central London (Camden/Euston area) and as our hostel is about to open, we're on the hunt for staff! We need: 2 night staff FT - 4 days on, 4 days off, will involve a little bar tending, bit of cleaning, bit of security 2 reception/bar staff FT - multilingual, well travelled beer geeks will be highly rated! 2 PT cleaners - it's cleaning. Experience and an eye for detail are necessary. Conditions/pay etc vary slightly according to the positions but as a general guide, we pay above average wages, provide free meals on shift (and beer after), are flexible in terms of shifts and can provide temporary staff accommodation if you're new to London. What do we want from you? Well, experience either as a bar tender or hostel/hotel receptionist is a must... or cleaner if that's the role you're applying for. Doesn't have to be both but that would be super helpful. An outgoing personality is of course essential (but you know that, you're on the HM forums). A high level of spoken and written English is required and as trite as it sounds, we need active people. We've no patience for slackers. If you have an artistic streak, are a wiz with social media or can MacGyver a solution to almost anything, this will score serious points. Interviews will be held over the next 2 weeks with roles beginning immediately. If you're keen and have the relevant experience or skills, drop us a copy of your CV and a cover letter to
[email protected]
with a bit about yourself, including your favourite beer, travel destination and a random unique fact about yourself, as well as contact details and all that jazz. Cheers.
HOSTEL NAME
OPPORTUNITIES AVAILABLE
Job first posted: 14 May 2016