The Pad Hostel is Searching For an Amazing Work-Exchange Team!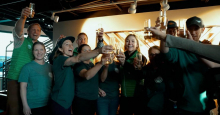 We are a brand new boutique mountain hostel in Silverthorne, Colorado looking for dedicated & responsible individuals who care about where they work, just as much as where they play.
Individuals participating in the work-exchange program are expected to complete 24-hours of work each week in exchange for a dorm bed in one of our 6-bed mixed dormitory rooms. We ask that all work-exchange applicants commit to at least a 1-month term with us here in Colorado!
Work Responsibilities Include:
- General cleaning & housekeeping duties
- Front desk duties (making reservations, checking in/out guests, hostel tours, responding to guests via phone & email)
- Assisting with events
- Guest relations
- Helping out with projects
The area we live in is exceptionally beautiful and surrounded by world class biking, climbing, rafting, hiking, running, skiing, and night life. We are looking to fill several positions at The Pad for this 2022 summer season with enthusiastic, like-minded individuals to help create an amazing community and work culture for both our staff and guests to enjoy.
If you are interested in long-term paid positions with The Pad, please reach out to
[email protected]
for more information on those positions.
Checkout our website (www.thepadlife.com) & Instagram (@thepadsilverthorne) for more information!
HOSTEL NAME
HOSTEL LOCATION
491 Rainbow Drive, Silverthorne CO 80498
Job first posted: 10 April 2022
Updated: 10 April 2022
THIS HOSTEL IS LOOKING FOR TRAVELLERS WITH THE FOLLOWING SKILLS
Building Maintenance & Repairs
Greeting / Helping Travelers (Concierge)
Hostel Cleaning / Housekeeping
Hostel Reception / Front Desk
*This Hostel is willing to provide training