Paddy's Palace Belfast is Hiring! New Receptionist Wanted!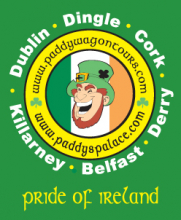 Hello Everybody!


Paddy's Palace Belfast is looking for a new Receptionist, to start working with us on February 29th 2016. Paddy's is a hostel located in Belfast University Area, just a few steps away from Queen's University main building and facilities. Belfast is a city of unknown charm; and is, worth to mention, one of the cheapest places to live in the UK.

We are part of a Irish travel company, Paddy Wagon Tours, which organises anything from day trips around Ireland to all inclusive 9-days tours of the island. It allows a large influx of international guests on a daily basis. You will ever get bored!

So this is us. But what are we looking for in you?

. Quick Learner. There are many things to learn and not much time, so it is essential that you are able to take in as much information as possible on a daily basis.

. Critical Thinker. Problems in hostels pop at at high rate - being able to fix them with the resources available is essential.

. Emphatic: guests aren't always very talkative, understanding their needs without many questions asked.

. Responsible and Flexible: Show up on time, respect your colleagues, speak your mind respectfully, take initiatives, help others.

. Assertive: when you have to kick people out of the lounge room because is closing time and you want to go to sleep...

.Out-going and Open-minded: at Paddy's we love to smile. We love to talk and enjoy ourselves. We love to meet and greet and talk to new people from anywhere in the world. Are you this person? Come and join our team.

. Mature: no drama allowed at Paddy's. We require applicants to be at least 21 years old.


What do we have for you:

. A competitive salary, paid weekly.
. 7-hour shift, 4 days a week. Shift beings at 3pm and ends at 10pm.
. Free day tours and free accommodation in the major tourist spots of Ireland and NI
. A great job for your CV and increase your employability skills
. Health care/Insurance included

What do we need from you:

please send your CV and statement letter to the manager Letizia Mattanza's email, listed below. We will get back at you as soon as possible. We will accept applications sent to that email address ONLY.

Application deadline: Monday, February the 8th, at 12pm.

If your CV is successful we will contact you again by February the 10th.
We will interview candidates from February the 15th.
Upon successful application the new Receptionist will have to attend a four days training starting on Thursday, February the 25th. We are a nice hostel in Belfast, close to the city center and Queens University. It is part of the Paddy Wagon company.


HOSTEL NAME
OPPORTUNITIES AVAILABLE
Job first posted: 22 January 2016