Paid hostel manager position and volunteers jobs at Hostel First Mirissa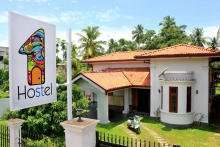 INTRO
Hello!
We are internationally minded travelers from Russia and Sri Lanka! Our expanding network of hostels built by people with a passion for traveling, offering everyone a chance to explore the most popular destinations in Sri Lanka comfortably and at an affordable price. Hostel First Colombo Airport has 5 rooms and it is very busy as it is near the international airport. Negombo Beach is in 20 mins bus ride. Hostel First Mirissa is located in south of island in 2 mins from famous beach!
We are looking for Hostel Managers for Hostel First Mirissa.
Hostel Manager vacancy
Duties:
Taking care of online bookings, check-in & check-out, emails and phone calls;
Receiving payments, keeping cash accounting, returning deposits, reporting to owner;
Paying running costs and managing the staff to ensure customer satisfaction;
Selling and organizing tours & transportation, and marketing other Hostel First hostels.
Working Conditions:
You will get a bed and board (2 meals per day)
First 2 weeks is unpaid training period. ( if you have experience in hostel managment - 1 week)
Salary is 40,000 RS per month + bonus
4 day-off per month.
The working hours are always different as always in hostels.
There are a bonus based on the reviews and tour selling.
There is an option to change location between hostels!
Friendly team and a chance to explore Sri Lanka!
Voluneteers at hostels:
We are looking for:
- artists to paint on our walls;
- to help us with online marketing and social networks;
- to help with web design, websites making.
- handycrafts and handworking
- Helping with guests, organizing events and trips
Minimum 2 weeks of volunteering.
We offer: a bed, 1 meal per day, 5 hours working per day, 1 day off per week.
Further inquiries and applications (including a CV):
[email protected]
Hostel First team
http://www.hostelfirst.com
HOSTEL NAME
OPPORTUNITY TYPE
Volunteering
Paid Hostel Staff
Hostel Manager
Job first posted: 06 June 2016
Updated: 17 January 2017