Paid Hostel Receptionist Job In Sevilla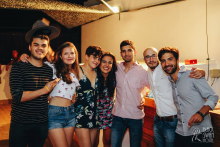 Hostel in the canter of Sevilla is looking for a young person with experience who is responsible, very friendly self-motivated and with excellent customer service skills.
Essential: language English and Spanish, experience in customer service, problem-solving and good teamwork skills, good knowledge of Barcelona.
Plus: Another language, marketing, and sales experience
Please send your CV + photo with a short cover letter (write about yourself why you want to work in the hostel and why you think you should get this position).
HOSTEL NAME
HOSTEL LOCATION
Carrer d'Alí Bei, 15, 08010 Barcelona, Spain
Job first posted: 03 October 2018
Updated: 03 October 2018