Party Hostel Manager - The Monk's Bunk, Tallinn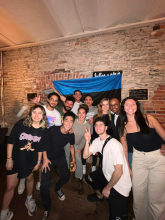 The Monk's Bunk is a legendary party hostel located in the heart of Tallinn´s Old Town, known for its wild parties, unforgettable atmosphere, and unique experiences. Our mission is to create epic memories for travelers from around the world, and we're looking for a dynamic and enthusiastic Manager to join our team.
Position: Hostel Manager
Location: Tallinn, Estonia
Job Description:
As the Hostel Manager at The Monk's Bunk, you'll play a crucial role in ensuring our guests have the time of their lives while staying with us. You'll be responsible for managing all aspects of the hostel's operations, from guest check-ins to organizing epic parties and events.
Key Responsibilities:
• Guest Relations: Ensure exceptional customer service and guest satisfaction, making their stay unforgettable.
• Staff Management: Supervise and motivate a diverse team of hostel staff, including receptionists, bartenders, and cleaners.
• Event Planning: Organize and execute legendary parties, events, and activities that will keep our guests entertained and engaged.
Qualifications:
• Previous experience in hostel management or a similar role is highly preferred.
• Excellent communication and leadership skills.
• A passion for creating unforgettable experiences for travelers.
• Ability to thrive in a fast-paced, dynamic environment.
• Strong organizational and problem-solving abilities.
What We Offer:
• Competitive salary.
• An exciting, dynamic work environment.
• The opportunity to work at one of Europe´s most legendary party hostels.
• The chance to meet travelers from all over the world.
• Accommodation and food provided.
How to Apply: If you're ready to take on this legendary role, please send your resume and a cover letter detailing your relevant experience and why you're the ideal candidate for this position to
[email protected]
.
Join us at The Monk's Bunk, and be a part of something truly epic! We can't wait to welcome you to our team.
HOSTEL NAME
HOSTEL LOCATION
Lai 22, 10133 Tallinn
Job first posted: 12 June 2023
Updated: 12 June 2023