PASSIONATE BILINGUAL MANAGER - 1YR COMMITMENT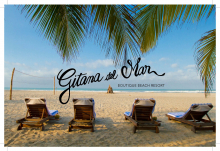 We are searching for an energetic, motivated and passionate person to be our Director of Operations. This position is the main contact with both the clients and the employees, whom which are local members of our community. Therefore, it is absolutely necessary to speak FLUENT SPANISH and ENGLISH.

The Director of Operations is IN CHARGE OF ALL CLIENT INTERACTION from the moment the client checks-in to the moment they leave.

Some responsibilities include : Check-in/out process, arranging transport to/from the resort for clients, organizing tours with our local guides, talking with clients on a daily basis during meal times to make sure their stay is going well and to help set up any tours, transport, spa services, yoga classes etc.

The Director of Operations is the MAIN POINT OF CONTACT between all employees (kitchen, housekeeping, maintenance) and the owners.

Some Responsibilities Include - Working with chefs and kitchen staff to organize weekly/monthly work schedules. Communicate with the Chef and cooks about the daily menu, number of guests and specific allergies or food preferences of the guests. Help serve and explain dishes to the guests during the lunch and dinner services. Help organize purchase lists for resort.

This position includes ACCOUNTING RESPONSIBILITIES in the form of receiving payment upon check-in and check out, keeping organized all receipts for purchases and entering them into the accounting system on a daily basis. Therefore any potential candidates must have experience related this area of the hostel/hotel/restaurant/bar business.


HOSTEL NAME
HOSTEL LOCATION
Santa Marta, Magdalena, Colombia
Job first posted: 11 August 2016
THIS HOSTEL IS LOOKING FOR TRAVELLERS WITH THE FOLLOWING SKILLS
Administrative Assistance
Email Communications
Greeting / Helping Travelers (Concierge)
Hostel Reception / Front Desk
*This Hostel is willing to provide training