Puerto Rico Hostel Startup !!!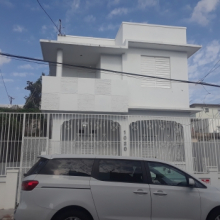 Looking for workers for Summer 2019


Located beside University of Puerto Rico's (UPR) main campus in the neighborhood of Rio Piedras. Bus terminal is at end of street.


Website + Virtual Tour + Gallery:
https://bit.ly/2DVDMaA

Contact: fighelper [at] G mail dot com


Metro(train) is 3+ large blocks away
Grocery plaza is 1 block
1 university and 2 colleges are 1 block

Come to America's carribean island of Puerto Rico and experience the American Spanish culture in the heart of the dominican neighborhood.

This location is not named and operating. It is seeking those that want to work and participate...and influence a startup.

Currently 8+ beds available

It is a shell that needs the the travellers touch to make it memorable.

Formerly a 10 unit apartment building.

10+ rooms , each with private bathroom



Job description:
Hostel Startup seeking Work/Volunteers

Always accepting applicants for future scheduling.




Description:

Close to University. Train(subway), Bus Terminal, Grocery, Malls, Markets

The current role:
Essentially, very similar to a Resident Manager role of an apartment building.

Be on-site to review work by contractors such as painters, electricians, plumbers, etc
Take photos of work
Be On-site to allow contractors to inspect for Estimates and quotes
Clean up the property - sweep, mop, etc
Can you construct Ikea furniture?
Basic housekeeping and property maintenance skills - unclog a toilet, take garbage to the curb, laundry.

Prototype Guest Models such as testing the market for guest experience.

2 week terms OK.

Must be legally Authorized to work in the USA for a non-charity.

A 90 day Vacation Visa is NOT ELIGIBLE because Room & Board is considered "compensation" in the USA.

US Citizens, Legal Residents, etc. are Eligible.

Note: F-1 Visa - University Students attending USA university are RESTRICTED from working OFF Campus. You are not eligible for this opportunity based on the F-1 Visa Requirements.

USA issues a 10 Year Ban if you lie upon entry to the country. If you accept a position with a competitor Hostel/Location and it is discovered you were not eligible for work then Dept of Homeland Security will ban you for 10 Years (Vacation, work, academic, etc). The competitor may not disclose this to you.

You cannot "Volunteer for free lodging" in the USA.

HOSTEL NAME
OPPORTUNITIES AVAILABLE
HOSTEL LOCATION
San Juan, 00931, Puerto Rico
Job first posted: 19 July 2018
Updated: 19 July 2018