Pura Vida Hostel , Tamarindo, Costa Rica looking for an Artist to paint signs and murals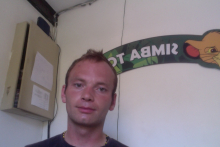 Hi we looking for an Happy artist willing to paint some signs and murals in Pura Vida hostel.
We offer free accommodation and little bonuses :)
www.puravidahostel.com ,
[email protected]
27 years old male from Slovakia.
I have years of experience working in hostel.
Im currently managing hostel Pura Vida in Tamarindo , Costa Rica for last 15 months. And now im looking for a change.
Im doing everything from administration , surf lessons to maintenance..
I m hard working, honest, flexible, easy going person loving to have people around all the time.
I found hostel work very interesting for me and I want to do it all my life.
If you are interested I can send more info and my CV and referencess on request
HOSTEL NAME
OPPORTUNITIES AVAILABLE
Job first posted: 03 May 2014