Receptionist in Beach town Cadiz. Bright, fun, hard working receptionist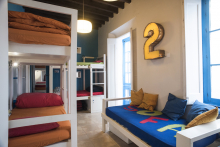 Casa Caracol is the number 1 hostel in Cadiz and we are seeking a fun vibrant and hard working receptionist to work front desk at the Caracol.

This means someone who is a real people person, attentive, understanding and patient! E.U nationals only for legal reasons. Someone who enjoys looking after people, someone with common sense, humor and useful life skills! Motivation, initiative empathy.


Fluent Spanish and English essential another European language would be a bonus.

We also hope that you will want to take advantage of a long standing offer of cooking some of the nightly meals in the Caracol that make it such a fun place to stay...... You buy and prepare the meals and you take the profits!
Creative and fun people will fit in well!
HOSTEL NAME
HOSTEL LOCATION
11006 Cádiz, Cádiz, Spain
Job first posted: 10 September 2017
Updated: 10 September 2017