Receptionist needed in Sicily :)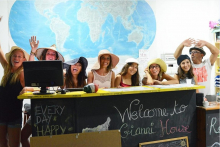 Our hostel is located in beautiful Taormina/Giardini-Naxos, Sicily.
Were located 300 meters from the sea and within 200 meters of the city centre of
Naxos. We`re at the foot of Mt. Etna, so watch out for lava: You can see the
volcano erupting over breakfast on the roof garden!

We are looking for one enthusiastic
receptionist for the months of April, May, June,July, August, September and October 2022 here at Gianni House for a minimum stay of one moth.
Some of your responsibilities include:

- Welcoming guests on arrival
- Dealing with reservations by phone, e-mail, and face-to-face
- Checking guests into and out of the hotel, allocating rooms and handing out keys
- Preparing bills and taking payments
- Handling special requests from guests
- Answering questions about our facilities and the surrounding area
- Dealing with complaints or problems
- Cleaning

Requirements:

- Ability to use a computer without supervision
- Friendly and a fast learner
- Good interpersonal skills are critical
- High attention to detail

WHAT DO WE OFFER YOU?
We offer you in exchange a bed in a dormitory room (private bathroom) with other volunteers, free facilities (breakfast, air con, laundry etc..) and discount on excursions.

WORK:
We require a 5 hour shift everyday for 6 days and a day off

If you are hard working, dedicated volunteer who loves people and hostels we would love for you to help out here in beautiful Sicily. Please message us and ensue you have a well prepared profile complete with a recent photo or two and we will get back to you as soon as possible. Applicants without this information will not be considered.
HOSTEL NAME
OPPORTUNITIES AVAILABLE
Work Trade/Exchange
Volunteering
HOSTEL LOCATION
Via Pergusa, 47, 98035 Giardini Naxos ME, Italy
Job first posted: 13 July 2018
Updated: 13 July 2018