Renowned Party Hostel Looking for Energetic & Adventurous Staff for 2022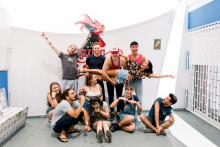 THE RISING COCK PARTY HOSTEL CELEBRATES 17 YEARS OF GOODTIMES AND IS LOOKING FOR UPBEAT & POSITIVE TRAVELLERS FROM ALL OVER THE WORLD FOR OUR 2022 TEAM!!!

We are a family-run hostel based in the heart of beautiful Lagos, Portugal; just a 5-minute walk from the beach and a 1-minute walk from other local amenities. We are currently looking for enthusiastic and energetic people who love to socialize to join our team. As we are a social hostel, ideally, we are interested in creative and diverse individuals who can help us create a fun-filled environment for our guests.

At the cock we are all about positive experiences and good memories and we believe that we are famous for providing an experience you will definitely never ever forget. Our guests know us by reputation, because we know them by name.

If you seek a different yet rewarding opportunity abroad, whether you're travelling through Europe or just want to take a vacation from life, why not join our exciting and awesome hostel family!


Daily Tasks:
-Execute daily & nightly reception task
-Perform housekeeping duties
-Implement hostel programs (pub crawls, beer pong, beach parties etc.)
-Enforce hostel policies
-Ensure five star service always


Perks of the Job:
-On-site shared staff accommodation provided
-Enjoy Mama's daily all you can eat tika-tika crepe breakfast
-Free access to all our special events and activities
-Access to all facilities: kitchen, outdoor terrace and much more
-Local staff discounts around town
-Meet people from across the globe whilst learning about the hospitality industry


Ideally we are looking for people who are able to stay for 2 months or longer. If you think you would be a good fit for our team, send us your details!


HOSTEL NAME
HOSTEL LOCATION
Tv. do Forno 14, 8600-315 Lagos, Portugal
Job first posted: 04 January 2017
Updated: 04 January 2017
THIS HOSTEL IS LOOKING FOR TRAVELLERS WITH THE FOLLOWING SKILLS
Administrative Assistance
Email Communications
Event Planning / Hosting
Greeting / Helping Travelers (Concierge)
Hostel Cleaning / Housekeeping
Hostel Marketing
Hostel Reception / Front Desk
Photography
Social Media Marketing
Tour Guide
*This Hostel is willing to provide training