The Resort Hostel in Israel is recruiting new hostel Manager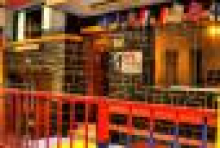 Job description:
Looking for skilled manager to run our 7 room hostel, job includes: Housekeeping, Reception, gardening and maintenance.

Girls: Job includes physical work such heavy lifting, yard working and maintenance ,so if you are one of those who believe only man should carry, this is probably not for you :)

Job estimated about 20 hours per week, with one day off
Salary: 2000ILS+1000ILS bonus for good reviews + free bed at the dorms.

Requirements:
-Excellent English
-Trial of 2 weeks as volunteer
-Ages 23-38
-Self-discipline and independence
-Availability from the beginning of June
-Driving license

Read more abuot us: www.theresort.co.ilHi,im 29 run a cool beach hostel on the central part of Israel.


HOSTEL NAME
OPPORTUNITIES AVAILABLE
Job first posted: 05 May 2015