SaltyWay - Surf Climb Portugal is looking for two helpers for 3 to 4 months for next season from March 2018 to January 2019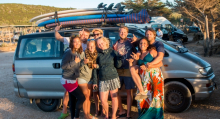 SaltyWay is a small surf and climb camp near Lisbon on the beach of Praia Grande: www.saltywaytravel.com. It is a work and holiday position. You get "Pizzamoney of 40€ a week," free accommodation and a lot of time in the water and on the rock for about 20h work a week. If you like to surf or climb or wanna learn it come and help us run the camp.
What is needed:
- older than 23 years / driver license valid in Europa / outdoor person / team player / 2 to 4 months time from March to the end of the year
What the Job is about:
- cleaning / transfers / socialize / check-in / prepare the house / maybe child care / be around
You get:
- accommodation 6er dorm or maybe caravan / surf and climb lessons / surf and climb materials / pizzamoney
Our Philosopy is that:
If you are happy and have a good time our guest are happy as well.
We need people who think for them self and are able to bend the program to have a good time with the group. Definitely, we are looking for problem solvers. If it gets hectic you should stay calm and take it with a laugh. As well as an allrounder, who keeps the house up and running.
We are a team and we work as such. On the weekend you will manage the change overs: making the beds, wash the bed linens and drive the pick-up and drop offs. During the week you get 2 days off if you want and the other days you drive the van to the beach or climbing spots. There are always transfers to the beach to make or you organize a little trip, depends how you and the group feels like.
Everyday checking on the cleanliness of the bathrooms and kitchen and specialty being around talk, answer questions and have a good time.
Please write me a mail with infos about you and when you could join us
Julika
SaltyWay- Surf Climb Portugal
[email protected]
www.saltywaytravel.com
HOSTEL NAME
OPPORTUNITIES AVAILABLE
HOSTEL LOCATION
Rua Alfredo Keil 42
Job first posted: 19 February 2016
Updated: 01 November 2017