SCOTTISH HOSTEL LOOKING FOR FUN & HARD WORKING HELPERS!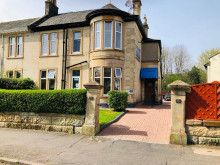 *** Looking friendly, energetic & hard working helpers to join our hostel in Glasgow, Scotland. ***
*** Minimum stay 1 month to 6 months ***

Our hostel is located in the West End of Glasgow and welcomes travelers from all over the world. We are popular with groups, individuals, city breakers, backpackers and event-goers. We are a good base for those looking to explore Glasgow and Edinburgh or act as a good stopover point for backpackers travelling to North Scotland. We believe in providing a clean, friendly and warm environment. Our rooms are spacious and clean, we have a large back garden with table tennis and our common room has a pool/multi game table. We are constantly making additions to improve the quality of stay for guests.

We are ranked 3rd in Glasgow on TripAdvisor!

We are looking for volunteers to assist with the daily hostel duties primarily cleaning and welcoming guests. Tasks include: making beds, vacuuming & mopping floors, cleaning showers, toilets, kitchen, ironing, - anything that ensures that the hostel is clean and comfortable for our guests. Occasionally you may be expected to be on late check-in duty and welcoming guests arriving late. You will be part of a team.

We are happy to take totally unqualified/urban students and train you and we are also interested in people who already have experience at either housekeeping and hotel work or any other kind of useful skills

In exchange for working about 4-5 hours per day for 6 days/week, we provide volunteers accommodation in a 6 bed mixed dorm, free breakfast daily, free laundry service and free WiFi. Not to mention the awesome friends you will make with people from all over the world. With a day off you can make the most of exploring Glasgow and Edinburgh and taking advantage of what Scotland has to offer further afield!

We have good transportation links, with a train station and bus stop less than 5 minutes walk. We also have a supermarket (Morrisons) less than 7 minutes walk away.

Also helpers will have to adhere to work restrictions of the UK and will need to be either an EU citizen or hold a valid work visa.

Come make some memories with us!
HOSTEL NAME
HOSTEL LOCATION
6 Fifth Ave, Glasgow G33 6LA, UK
Job first posted: 07 August 2019
Updated: 07 August 2019