Seeking social volunteers for hostel help in multicultural neighborhood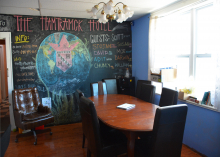 Come stay in lodging in the heart of Hamtramck, one of the most vibrant immigrant communities in the Detroit area! Hamtramck's motto is the whole world in two miles. Our community filled with people from all different nationalities, ethnicities and backgrounds while also being a short drive or bike ride to the center of downtown Detroit.

All of our rooms have been updated to have new, comfortable 15 inch mattresses, new sheets, towels and new blankets. We have common areas where you can meet short and long term guests, watch tv/netflix, cook/eat and socialize.

Our volunteers stay in private rooms and share the bathrooms and common areas with the rest of the guests. All volunteers are asked to contribute to cleaning but depending on our needs you might be able to contribute with other special skills such as: gardening, graphic design, mural artistry, marketing, maintenance, etc.
HOSTEL NAME
OPPORTUNITIES AVAILABLE
Work Trade/Exchange
Volunteering
HOSTEL LOCATION
2699 Holmes St, Hamtramck, MI 48212, United States
Job first posted: 05 August 2021
Updated: 05 August 2021