Stay Free in San Francisco!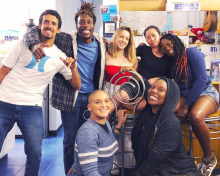 "Travel is the only thing you can buy that makes you richer."

At Pacific Tradewinds Hostel, our mission is to help travelers with limited means experience San Francisco and the world in order to create international friendship across borders.

One of the ways we do this is by routinely gifting free stays to our guests. We especially do this when we think they are doing good things for the planet or when they have provided a positive influence in our hostel community. Sometimes guests entertain us with music or cook a great community meal to share. They inspire us with their awesome good work for the planet or simply just can't help but make us smile. Sometimes we have guests that are just super helpful and love washing dishes and other times we are awe-inspired by the effort a guest has made to come to visit us from an obscure far off corner of the developing world. These are some of the reasons we choose to gift stays to our guests either in advance or by retroactively giving a refund. It's important to understand gifting is never a guarantee and it's rarely formalized.

If we gift you a free stay, there is no obligation to work in exchange for your free gifted stay. This is not work-exchange or barter as some hostels call it. Nor does it meet the U.S. legal definition of "quid pro quo". And, it's definitely not a job! So don't tell immigration you have been offered the opportunity to work at a hostel. This post is not a job offer. Gifting is simply an expression of love and appreciation from one human to another. We encourage you to travel the world with this spirit of gifting and stay in hostel communities with a giving mindset and you will be amazed at where it literally takes you. Hostels everywhere are looking for travelers with this positive outlook on life. If you want to understand more about how we see gifting, search YouTube for "Halcyon's Tips & Tricks #6 - GIFTING".

If you prefer to see the world as transactional, that's okay. We hope you will still stay with us. If the idea of creating a dynamic international community of travelers who help each other sound like more fun, we encourage you to reach out and introduce yourself to us using the button above.

ABOUT US
We are a quirky, spontaneous, friendly, super social group of travelers that have fallen in love with San Francisco and have decided to become housemates and stay awhile. And we also happen to call the smallest and friendliest hostel in town, our home. We love meeting travelers from all over the world and swapping stories, meals, laughs, and hugs.

Let's chat!

Until then, happy trails….


HOSTEL NAME
HOSTEL LOCATION
680 Sacramento St, San Francisco, CA 94111, USA
Job first posted: 21 October 2019
THIS HOSTEL IS LOOKING FOR TRAVELLERS WITH THE FOLLOWING SKILLS
Administrative Assistance
Bartending
Building Maintenance & Repairs
Computer Illustration
Computer Networking
Computer Programming
Computer Tech Support (Mac)
Computer Tech Support (Windows)
Cooking
Email Communications
Event Planning / Hosting
Greeting / Helping Travelers (Concierge)
Hostel Cleaning / Housekeeping
Hostel Management
Hostel Marketing
Hostel Reception / Front Desk
Murals & Art
Painting & Varnishing
Photography
Social Media Marketing
Tour Guide
Video / YouTube Production
Web Blogging & Writing
Web SEO
Website Design
*This Hostel is willing to provide training