Sub-tropical Island Oasis seeks vibrant and experienced manager!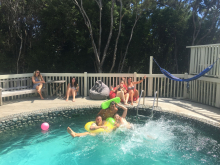 Seeking a motivated, social, fun and confident hostel manager who works strategically to achieve KPI's. You will possess exceptional communication skills(in various languages) and be able to provide outstanding customer service.

This is a hands-on position in which you will be required to undertake all roles it requires to make a busy eco hostel hum.

To be successful in this role you will need:
• Minimum of six months in similar role
• To be well travelled and open to many cultures
• Be confident in supervising staff, engaging with guests, and all operational aspects (incl blocked toilets, repairs, etc)
• Ability to manage and motivate staff
• Outstanding customer service and communication skills
• PMS and channel management experience
• Strategic planning and financial reporting skills
• English, French, Spanish, German, etc
• Must be able to live on site
• NZ residency or a valid NZ work visa

Compensation based on base wages & accommodation, plus bonuses based on performance.

To register your interest please email your CV with accompanying short video of why you are perfect for this role. Only applications with videos will be accepted and considered.

HOSTEL NAME
OPPORTUNITIES AVAILABLE
Paid Hostel Staff
Hostel Manager
HOSTEL LOCATION
11 Hekerua Rd, Oneroa, Auckland 1081, New Zealand
Job first posted: 24 March 2019
Updated: 24 March 2019