Join our community and live free in San Francisco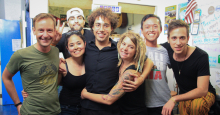 We are a super social group of travelers that have fallen in love with San Francisco and have decided to stay awhile. And we happen to call the smallest and friendliest hostel in town home. We love meeting travelers from all over the world and swapping stories, meals, laughs and hugs.

From time to time we happen to meet travelers that would be a great fit in our community. A handful of us live communally and share tasks to keep our hostel home clean, organized and fun. If you believe that strangers are friends you haven't met yet and kindness is the most important thing — then we would love to chat with you.

This is NOT a work exchange nor does it meet the U.S. legal definition of "quid pro quo", instead this is an invitation to introduce yourself to us and see if there's a possibility you might want to stay a while in San Francisco's friendliest communal living arrangement for travelers. Here you will make lifelong friends and have unforgettable experiences.

If you think you would be a great fit for our San Francisco hostel community, shoot us a message ASAP and let's chat!
HOSTEL NAME
HOSTEL LOCATION
680 Sacramento St, San Francisco, CA 94111, USA
Job first posted: 25 March 2018
Updated: 04 March 2018
THIS HOSTEL IS LOOKING FOR TRAVELLERS WITH THE FOLLOWING SKILLS
Greeting / Helping Travelers (Concierge)
Hostel Cleaning / Housekeeping
Hostel Reception / Front Desk
*This Hostel is willing to provide training