!! Switzerland calling !! CATERING CHEF NEEDED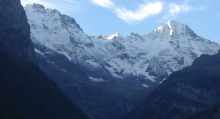 Schutzenbach Backpackers is a family-owned business in the breathtaking valley of Lauterbrunnen, Switzerland.
We are looking for highly motivated English-speaking male/female staff aged 25-35 with an EU passport.
Accommodation is provided starting 1st June 2023 until approx. 30th September 2023
Working hours 43 per week
Live-in accommodation is available.
Interested?
Then please get in touch with us or send your CV to
[email protected]
.
HOSTEL NAME
HOSTEL LOCATION
Schützenbach, 3822 Lauterbrunnen, Switzerland
Job first posted: 06 February 2023
Updated: 06 February 2023
THIS HOSTEL IS LOOKING FOR TRAVELLERS WITH THE FOLLOWING SKILLS
*This Hostel is willing to provide training