Tallinn Backpackers is looking for manager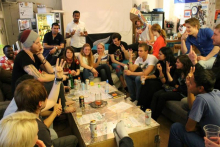 One of the most prestige hostel in Tallinn, Estonia is looking for a new manager for upcoming season 2014(or even longer)
About us:
Tallinn Backpackers is a part of a leading hostel chain in Tallinn, Estonia. With 5 properties around the old town of Tallinn and numerous partners around the country, Tallinn Backpackers with its sister hostels run the local hostel scene.
Tallinn Backpackers started more then 10 years ago making the company to be the first who opened a hostel after the fall of Soviet Union and has been growing ever since.
About the hostel:
Tallinn Backpackers is a solo travelers hostel located in the medieval historical Old Town.
With only 26 beds Tallinn Backpackers motto is focused on socialising and offering home away from home mostly to single travelers.
What are we looking for:
As Tallinn Backpackers was just recently transformed from party hostel to social and alternative(off from main tourist traps) hostel, we are looking for enthusiastic character who could lead this change through. Create new spirit, projects and products but as well would take care of every day tasks and staff.
Requirements:
Experience in working in hostel or relevant institution
Experience in dealing with international crowd
Management and leader skills
Commitment to spend in Tallinn at least the season of 2014
Fluent English (other languages, specially Russian is a plus)
From our side we offer challenging position, salary, free accommodation, discounts from our food and drinks, international working environment.
If you are interested, please send your CV to
[email protected]
Looking forward hearing from you,
HOSTEL NAME
OPPORTUNITIES AVAILABLE
Job first posted: 06 January 2014