TOUR GUIDE & HOSTEL EVENTS in Riga Latvia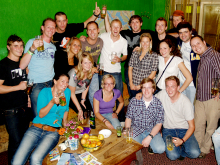 We need a TOUR GUIDE / VOLUNTEER asap! Ideally straying with us for 6 weeks to 3 months. Running Bobsled Tours, Dogsled Tours, Shooting tours and other daily events inside the hostel. Choose between paid work or volunteer system with free room and beer. Please contact us now and introduce yourself and send your CV.
YOU MUST HAVE A VALID DRIVERS LICENSE. Cheers.
HOSTEL NAME
OPPORTUNITIES AVAILABLE
Volunteering
Paid Hostel Staff
HOSTEL LOCATION
Kalēju iela 50, Centra rajons, Rīga, LV-1050, Latvia
Job first posted: 27 November 2016
THIS HOSTEL IS LOOKING FOR TRAVELLERS WITH THE FOLLOWING SKILLS
Bartending
Email Communications
Greeting / Helping Travelers (Concierge)
Tour Guide
*This Hostel is willing to provide training