TRAINEE RECEPTIONIST IN GRANADA - SPAIN HOTEL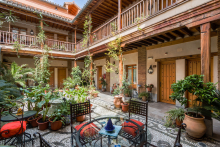 Family run business in the city center of Granada.
Only 5 staff members. We run that place from year 1986.
Now we need help to improve occupancy and give a better service to travellers.

We are looking for a student internship responsible for:
-maintenance tasks,
-typing letters, reports,
-production of documents of confidential nature
-contact with guests,
-managing of payments,
-helping with cleaning,
and for other administrative task.
HOSTEL LOCATION
real de cartuja 8
Job first posted: 06 December 2016
Updated: 13 December 2016
THIS HOSTEL IS LOOKING FOR TRAVELLERS WITH THE FOLLOWING SKILLS
Administrative Assistance
Email Communications
Hostel Marketing