Volunteer at Finn Mccools, Bushmills, (N) Ireland and amazing part of this beautiful Island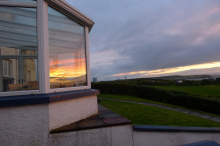 Hello there, and welcome to Finn McCools hostel.
We are looking for a volunteer for our hostel that can start as soon as possible. The job involves a little bit of everything. so you will not be bored ;)

We are a small hostel with 24 beds in an amazing place just 300 meters from the Giants Causeway. Beautiful views and surroundings in a nice quiet part of North Ireland.

We are looking for people that are not afraid to pick up any job. From cleaning the rooms to check guests in and show them around, cook the occasional breakfast. And very important, make our guests feel welcome.
You will be working around 24 hours a week and for this you will have free accommodation and breakfast.

Just send us an email if you want to be part of our amazing hostel and team.
And if you have any questions please do not hesitate to ask, we are happy to help where we can.

enjoy your day and we hope to hear from you soon.

All the best,
Andre and JaceyTogether with my girlfriend we own a beautiful small hostel, Finn Mc Cools in Northern Ireland. Finn Mc Cools hostel. In an amazing location near the Giants Causeway.

And looking for people that want to join our team.


HOSTEL NAME
OPPORTUNITIES AVAILABLE
HOSTEL LOCATION
Job first posted: 10 May 2016