Volunteers all year round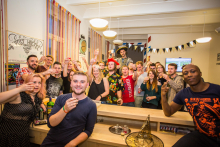 It's not a job! It's a lifestyle! :)
You are a multi-tasking, resourceful, imaginative, and curious citizen of the world who enjoys challenges, moving around and learning something new every day in a fast paced environment?
Change is your ally and creativity your best friend?
You are ready to jump in at any time and wear many hats because you value the growth you can have by learning to do it all?
What do we want from you? To be an extremely social person - if you're shy, please don't apply!
You have to be open minded, fun, friendly and of course responsible and respectful. Do you see yourself in this? Being a Packer with us will give you unforgettable memories.
Do you want to be part of a nice team that is responsible for the first impression that our guests get when visiting Prague? Then you are what we are looking for!
Our staff come from different parts of the world which gives great opportunities to gain new skills and get to know different cultures. Our guests are mostly backpackers, coming to Prague to see its beauty but also to have unforgettable times.
We are looking for open-minded, responsible people who are not afraid of tasks and are ready to share their experience or gain new ones...
We always have some new ideas, so we are really searching for enthusiastic team members that want to help in creative ideas and creating the best hostel atmosphere that gives each individual guest amazing memories of Prague!
We need a passionate and confident people person to become part of our family. If you are motivated, organized, a people person through and through and have a desire to be part of something big then your journey should start here. Help us to create an unforgettable experience. You will stay at our Hostel in Prague, we have a lot of fun together, but on the other side we are professionals and we are running serious business, we expect you to collaborate seriously too.
Since many people are applying for the same position we require a short video application in which you would present yourself and convince us that you are the best choice for us! :) You can send it on p
[email protected]
or on our WhatsApp number +420 702 158 270
Please note that due to the high number of applicants, we will only consider candidates who provide us with the short video application. We want to see YOU. Show us your personality, and how you think you will benefit our team. If you are successful we will contact you for a further interview via Skype.
We are only able to hire EU passport holders. English language is required, any other is a great bonus...
Good luck!
HOSTEL NAME
HOSTEL LOCATION
Moravská 1530/9, Vinohrady, 120 00 Praha-Praha 2, Czech Republic
Job first posted: 11 May 2018
Updated: 11 May 2018