Volunteers needed in Riga, Latvia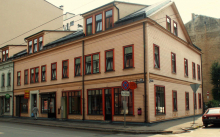 Hi!
We are looking for summertime volunteers!
Volunteers' main job will be looking after the guests, entertainment and housekeeping. We will prefer volunteers who can take this position for at least a month.
We offer:
*free accommodation in a private room / shared bathroom
*free use of all hostel's facilities (including wifi, hot drinks, kitchen, laundry)
*pocket money
*volunteers can use hostel's bikes (if not rented out by guests).
You can find more about hostel here: www.centralhostel.lv
Additional questions or CV please send to:
[email protected]
Wish you all the best,
Central HostelCentral Hostel is every traveller's second home, a small, cosy hostel with very reasonable prices. The comfortable and bright rooms are perfect for single travellers, couples and families with children who wish to stay in a quiet street in the centre of Riga. Our Hostel is situated just 10 minutes walk from the Central Train station and Bus station and 15 minutes walk from the Old Town.
HOSTEL NAME
OPPORTUNITIES AVAILABLE
HOSTEL LOCATION
Job first posted: 24 April 2016