Volunteers wanted in the heart of beautiful Minsk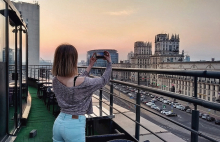 The best hostel in Belarus is looking for positive, energetic and hard-working volunteers!

We need you to shine and share your happiness with our guests and our team cuz we want everyone feel here like at home.
We expect you to be active and initiative with some fresh ideas and innovations. Maybe you have traveled around the world and saw how hostel feed crocodiles or you have a small experience in the family hostel and you just know how to make a cozy atmosphere? You are welcome to our friendly team!

Responsibilities:
- making beds
- keep clean a common area
- helping with breakfasts
- help us with a reception
- being nice to guests
- taking part in our activities

We ask for 4 hours of work per day (mostly morning shift), 6 days per week with 1 day off.
In exchange, we offer accommodation in shared dorms, WiFi, use of the laundry and kitchen facilities... and lots of fun and new friends.
HOSTEL NAME
HOSTEL LOCATION
Ulitsa Starovilenskaya 12, Minsk, Belarus
Job first posted: 06 July 2019
Updated: 06 July 2019