Volunteers welcome in Cinnamon Sally Backpackers Hostel, Riga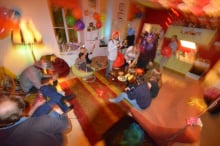 If you are travelling through the Baltics/Europe and want to stay in Riga a bit longer (at least 2 weeks) and don't mind putting in a couple of hours of hostel work, we can sort you out with a free bed.
Great option for someone travelling for a long time.
If you're good, we'll throw in free shooting/bobsledding/bungee jumping tour for you.
HOSTEL NAME
OPPORTUNITIES AVAILABLE
Job first posted: 28 August 2013