Want to work in Paradise?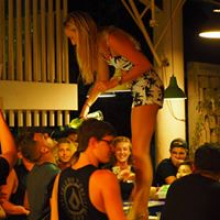 WANT TO WORK IN PARADISE?
Capsule Hotel is looking for volunteers to join our Family!
We´re one of Asia´s top-rated party hostels. Located in Seminyak, the heart of Bali! It´s not just a hostel but a restaurant, bar and party place.
We´re only a few minutes away from the best bars, beach clubs, and restaurants. It´s the perfect opportunity to explore everything the island has to offer.
What we are looking for is certified Hell-Raisers. We don't need 'chill,' 'friendly' people. We want crazy, hypersocial people that know how to get people worked up while being able to keep themselves relatively collected all at the same time. If you can demonstrate that you have what it takes to head this role, please send us an email including which of these options interests you, your desired duration of stay, and your CV or relevant experience w/ a detailed explanation of responsibilities, ect.
We´re looking for a few people who can stay for at least 6 months and several others that can stay for at least a month. Of course, we will also help you get sorted with visas, etc.
Diligent and experienced applicants who agree to a 6-month contract (or longer) will receive considerable compensation.
Available Position:
------------------------------------------------------------------------------------------------------
GUEST EXPERIENCE Representatives:
The main job is to connect with people and make them feel welcome. That includes animating people to play drinking games, working on our weekly party bus to Single Fin in Uluwatu, organizing fun activities during daytime, introducing people to each other, showing them around, telling them about the best spots to hang out or party on Bali and be someone who they can turn to when they have questions.
We´re looking for energetic people with personality and charisma. Being savvy with social media, photography, or any artistic outlet is definitely a plus.
------------------------------------------------------------------------------------------------------
At capsule, its all about family. We work together to make sure everything runs as smoothly as possible for the community. We put in the hard yards because we want to help each other. Socializing, exploring the most amazing island on this planet, and partying is just a bonus.
Think you've got what it takes to hang with the best of them?
Email us at
[email protected]
with your CV, the contract length you are willing to commit to (Min. 1 Month), some information about yourself, and why you think you would be right for the job!
HOSTEL NAME
OPPORTUNITIES AVAILABLE
Work Trade/Exchange
Volunteering
HOSTEL LOCATION
Jl. Beraban No.20, Kerobokan Kelod, Kuta Utara, Kabupaten Badung, Bali, Indonesia
Job first posted: 21 May 2018
Updated: 21 May 2018
THIS HOSTEL IS LOOKING FOR TRAVELLERS WITH THE FOLLOWING SKILLS
Administrative Assistance
Bartending
Event Planning / Hosting
Greeting / Helping Travelers (Concierge)
Hostel Management
Hostel Marketing
Hostel Reception / Front Desk
Murals & Art
Photography
Social Media Marketing
*This Hostel is willing to provide training