We're looking for an outstanding, fun and vibrant member to join our NIGHT TEAM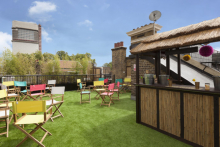 SoHostel is an affordable backpacker's hostel.
www.sohostel.co.uk
We are looking for an outstanding member to join our NIGHT TEAM. You would be expected to work as part of a team with various roles and responsibilities, working both 'front of house and customer relations, previous experience in hospitality would be beneficial but not essential. We will provide you with guidance and training as well as access to staff perks.
Essentially we are looking for someone with excellent customer service, great communication skills both written and verbal, IT literate and well presented. Desirable attributes but not essential include a second language and a hidden talent to be shared!
If you have any questions regarding the post, please call 0208 821 5154
Please note: YOU MUST BE BASED IN THE UK TO DO A TRAIL SHIFT.
Meanwhile please email your CV to:
[email protected]
HOSTEL NAME
HOSTEL LOCATION
91 Dean St, Soho, London W1D 3SY, UK
Job first posted: 02 August 2017
THIS HOSTEL IS LOOKING FOR TRAVELLERS WITH THE FOLLOWING SKILLS
Administrative Assistance
Bartending
Email Communications
Event Planning / Hosting
Greeting / Helping Travelers (Concierge)
Hostel Cleaning / Housekeeping
Hostel Reception / Front Desk
*This Hostel is willing to provide training