Who want to be part of Casa da Madalena's family for the summer 2018, under the sunshine of the Algarve?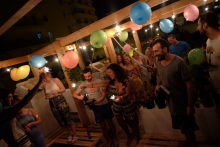 Top Ranking hostel in the Algarve is seeking for a happy and hard working receptionist to work front desk at our hostel for the summer season 2018.

Front desk reception experience in hostels and/or staff manager is a definite plus.

Be fluent in English and Portuguese.

Motivated and responsible, dynamic and enthusiast, calm and sociable... and tidy will be the successful applicant.

E.U nationals only for legal reasons.

All the postulate have to be available from now or very soon until the end of summer (end of September 2018)

We also don't confirm volunteers for more than a month in advance, so please contact us closer to our dates.

For more details, please contact us.
HOSTEL NAME
OPPORTUNITIES AVAILABLE
Volunteering
Hostel Manager
HOSTEL LOCATION
Tv. da Madalena 10, 8000-078 Faro, Portugal
Job first posted: 06 May 2018
Updated: 06 May 2018
THIS HOSTEL IS LOOKING FOR TRAVELLERS WITH THE FOLLOWING SKILLS
Greeting / Helping Travelers (Concierge)
Hostel Management
Hostel Reception / Front Desk
*This Hostel is willing to provide training